If you are looking for the best organ meat supplements, a big kudos to you. This means that you know how much nutrition and health benefits can go with eating organ meats.
The benefits of organ meat supplements are endless because eating organ meat provides you with lots of vitamins, minerals, enzymes, nutrient cofactors, and antioxidants.
Organ meats, also known as offal, contain compounds that are traditionally thought to treat conditions associated with your specific organ in the body that needs a boost. For example, eating heart tissue may help the heart function properly.
And there are good reasons to believe this. Heart tissue is the richest source of coenzyme Q10, the heart's major antioxidant, as one example.
In this post, learn about the best desiccated beef organ meat supplements based on company reputation, customer reviews, ingredients, and regenerative agriculture practices used by the companies.
This post contains affiliate links. Visit the disclosure page for more information.
Best organ meat supplements criteria
To find the best organ meat supplement capsules, you should look for the following quality standards:
Third party inspected or contains GMP certification
No fillers or additives
Grass fed and grass finished beef organs
Highly rated
Good brand reputation
Non-defatted to retain nutrients
Freeze dried to naturally preserve active compounds and digestive enzymes
I will break down the best brands for you so that you can get the best product for your money. By the way, desiccated organ meats simply mean that they are chopped up.
For the purposes of this review, I did allow products that did not have a third-party inspection if the company has a long history of good reputation and good product reviews.
100% Grass-Fed Beef Only At Grassland Beef
Best overall desiccated beef organ meat supplements
Here is a breakdown of each of the best grass-fed beef organ meat supplements.
As you can see, they are all similar in quality but feature different amounts of organs and prices. Ancestral Supplements brand has the most reviewer ratings of all the brands, but all brands included here have excellent reviews and a strong brand reputation.
Brand
Additives
Cost
Third-party
verified
100% Grass
Fed
Organs
Servings +
Dose

Ancestral Supplements

none
$48
Liver
Heart
Kidney
Pancreas
Spleen

30 servings


3000 grams

Perfect Supplements

none
$43
Liver
Kidney
Heart
Pancreas
Thymus
Spleen

30 servings


3000 grams

One Earth Health

none
$44
Liver
Heart
Kidney
Pancreas
Beef Spleen

33 servings


3000 grams

Body Health

none
$40
Liver
Kidney
Heart
Adrenal
Spleen
Pancreas

30 servings


3000 grams

Optimal Carnivore

none
$55
Liver
Brain
Heart
Thymus
Kidney
Spleen
Pancreas
Lung
Gallbladder

30 servings


2750 grams

Paleo Pro OG

none
$33
Liver
Kidney
Heart
Spleen
Pancreas

30 servings


3.6 grams
Ancestral Supplements Grass Fed Beef Organs
Ancestral Supplements Grass Fed Beef Organs is one of the best beef organ supplements because the company excels at customer service and responsiveness and the product is superior in many ways.
100% grass-fed and pasture-finished cows from New Zealand and Australia help foster the health of the planet and produce the highest quality product as well.
This organ complex supplement product also gives you a lot for your money as well, with 3000 mg of beef organs per serving.
Ancestral supplements reviews are off-the-chart good for each and every supplement they make.
Another major benefit of Ancestral Supplements is that there are absolutely no fillers or additives in their products.
The organs are also freeze-dried instead of heat-processed, which preserves the quality and potency of the product. 180 capsules per bottle, so this is a full-month supply.
Each serving contains:
Freeze-Dried Grassfed Beef Organs 3000mg
Pros
Grass Fed Beef Liver 600mg
Grass Fed Beef Heart 600mg
Grass Fed Beef Kidney 600mg
Grass Fed Beef Pancreas 600mg
Grass Fed Beef Spleen 600mg
Grass fed and grass finished
No fillers
From New Zealand and Australia
Highly rated
Great customer service
5 glandulars
3rd party tested for purity and quality
Both Keto friendly and Paleo friendly
Cons
A little pricey for some people
Perfect Supplements Multi Organs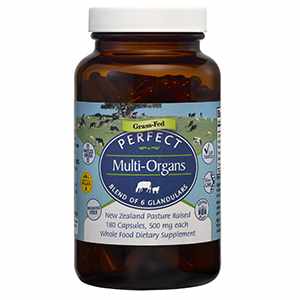 Perfect Supplements are excellent beef supplements that contain a slightly lower dose of each organ but contain added thymus for immune function.
The use of glandular therapy like Perfect Supplements Multi-Organs goes back before recorded history. It was used medicinally by the ancient Hindus, Egyptians, Greeks, and others.
As long as history is recorded, people treated illnesses with liver, hearts, and more, with the organ that needed therapy being the organ that was given.
Historians like Weston A. Price noticed that around the world that the most healthy people ate organ meats.
Reviewers absolutely love this product. This product also contains the same amount as Ancestral Supplements with a total of 3000 mg per serving and 500 mg each of:
Pros
Grass finished bovine liver
Grass finished bovine kidney
Grass finished bovine heart
Grass finished bovine pancreas
Grass finished bovine thymus
Grass finished bovine spleen
One of the only organ meat supplements that contains thymus to support immunity
Green America certified business
Strictly New Zealand Pasture Raised and Grass-Fed
6 Organ Glandular blend
100% Freeze Dried
Non-Defatted
No fillers or additives
Does not contain hormones or pesticides and is glyphosate free
Naturally Non-GMO
Allergen free
Third party tested
*This supplement has the most rigorous testing and is gauranteed to also be glyphosate free
100% Guaranteed money back
Careful documentation of traceability
Perfectly Pure Certification, which mean each and every batch is tested to be free of harmful contamination, such as e.coli
Both Keto friendly and Paleo friendly
Cons
Not available on Amazon
Vegetarian capsule; some people prefer a gelatin capsule instead
One Earth Health
One Earth Health Beef Organs is an organ meat supplement that is overall very similar to both Perfect Supplements and Ancestral supplements.
It comes in a bigger package with 200 capsules, and the price is a bit lower than other brands.
This product gets high reviews from hundreds of people and only a couple of people complain that their stomachs can't tolerate it. Beef Organs are the most nutrient-dense foods on the planet, so this supplement is truly considered nature's multivitamin.
From cows raised in New Zealand: the USDA shows that New Zealand's liver has 50% to 450% more vitamins than USA-based conventional liver. Each serving contains 3000 mg total of:
Pros
600mg Desiccated Beef Liver
600 mg Beef Heart
600 mg Beef Kidney
600 mg Beef Pancreas
600 mg Beef Spleen
Naturally non-defatted desiccated beef organs
Healthy nutrients for mitochondrial health
From pasture raised, grass fed cattle as well as grass finished in New Zealand
Animals raised on pesticide free pastures
Gelatin capsule with no fillers
Freeze dried to retain quality
Slightly better value than the other mentioned brands
Keto friendly and Paleo friendly
Cons
Not GMP certified
Occasional complaint of upset stomach from a couple of reviewers
Body Health Organ Complex
Body Health Organ Complex supplement checks all the boxes for the highest quality organ meat supplement and it is made from 100% organic grass-fed beef organs.
This high-quality organ meats supplement comes from 100% Grass-fed and finished, pasture-raised, New Zealand Cows and Argentina Cows. As a result, this product has superior nutrition and humane standards for both you and the planet. Grass-fed cattle and their organ meats have higher amounts of nutrients and antioxidants than their conventional counterparts.
Containing bovine adrenals, this supplement could be helpful for people struggling with fatigue in general or adrenal fatigue.
Pros
625 mg bovine liver
416 mg bovine kidney
416 mg bovine adrenals
416 mg bovine heart
208 mg bovine spleen
416 mg bovine pancreas
Freeze-dried to retain peptides and organ specific biomolecules
No fillers or flow agents
Fully grass fed and pasture raised
Free shipping
You can subscribe and save 15 percent
30 day return policy
One of the best bargains for your money at $40 per package
180 capsules per bottle
GMP certified and 3rd party inspected
Capsules are made of grass fed bovine gelatin
Manufactured in the United States
Both Keto friendly and Paleo friendly
Cons
Slightly lower dose than other brands, but this may be good for people who are new to taking organ supplements.
If you purchase Body Health Organ Complex at this link you get 20% off by using code HEIDI20.
Contains the most diverse beef organ meat
Optimal Carnivore organ meat supplement stands out because it contains 2730 mg per serving with 9 organs.
If you are looking for a product with the most diverse benefits, this one should be your go-to for organ meat supplements.
Pros
Contains 500 mg each of:
540 mg of Beef liver
480 mg of Brain
240 mg of Heart
480 mg of Thymus
240 mg Kidney
240 mg Spleen
240 mg Pancreas
240 mg Lung
240 mg Gallbladder per serving
Product is 100% grassfed beef organs from animals in New Zealand
Freeze-dried and desiccated organs which preserves all of the vitamins, minerals, proteins and enzymes.
Superior to synthetic and plant-derived nutrients for absorption and utilization in the body
100% satisfaction guaranteed
Certified Good Manufacturing Practices (GMP certified) and third party tested
Doctor formulated
Allergen free
Manufactured in the USA
Both Keto friendly and Paleo friendly
Cons
Some people may be squeamish about having brain organ meat in their supplements. However, the brain organ is the richest in phospholipids called phosphatidylcholine as well as omega-3 fatty acids.
Only available on Amazon
Best bargain organ meats
Paleo Pro OG is one of the best beef organ supplements because it contains 3.6 grams per serving and the best value at around $35.
It also checks all the boxes for quality, brand reputation, and high reviews as well.
Pros
Higher dose per serving than other organ meat products as well
Like other organ meat supplements, this one is full of key vitamins and minerals including Vitamin A, Vitamin B, Vitamin C, Potassium, Zinc, Iron, Phosphorus, Niacin, Copper, Riboflavin, and Folate.
No hormones, pesticides, or antibiotics
Grass fed cows from Argentina and New Zealand
No additives, allergens, or fillers
Bottled and 3rd party tested in the United States
Non-defatted and freeze dried to preserve nutrients
Both Keto friendly and Paleo friendly
Cons
The label doesn't specify how much of each organ it contains
Other beef organ meat supplements worth trying
Ancestral Supplements Beef Lung

with beef liver offers lung-specific building blocks. These include peptides and enzymes that may support healthy lung tissue. Traditionally used for respiratory conditions such as bronchitis, coughs, colds, viral illnesses, flu, and arthritis, this supplement surely can't hurt and might help. This product gets overwhelmingly positive reviews for its lung health benefits.
MK Supplements Beef Liver is a beef liver supplement that is formulated by Michael Kummer, who is dedicated to healthy living and providing the highest quality 100% grass-fed beef liver supplements out there. This desiccated beef liver contains 3000 mg per serving and is a great way to get a natural and highly concentrated vitamin, mineral, and antioxidant supplement.
Liver supplements are used to enhance vitamins and minerals, especially vitamin A and iron. These are two nutrients that women of childbearing age often need more of.
Related post: MK Supplements Grassfed Beef Liver Capsules Reviews + Proven Benefits (thehealthyrd.com)
Didn't make the cut
A few supplements out there are of high quality, but because of their processing or additives, they didn't make the list. They are:
Organ Meat Benefits
Organ meat supplements are having a renaissance because people realize now how much they are missing out if they don't eat organ meats.
Supplementing beef liver is the most popular organ meat supplement, but other organs provide a lot of value as well.
Organ meat's health benefits are endless because they are so rich in almost every nutrient out there. As you probably know, nutrients are the building blocks of every cell and every function that your body has.
Organ Meat Nutrients
Grass-fed beef vitamins are highly concentrated in their organs. Here is an overview of those nutrients and where they come from.
Beef liver organs are considered nature's strongest multivitamin because it contains more broad-spectrum nutrients than any other food on the planet. A superfood powerhouse for the mitochondria.
Heart organs contain anti-inflammatory properties and help immune function in the body. It provides critical nutrients for heart health and blood health. Using the concept of like-treats-like, beef heart organs have heart-specific benefits as well. The heart tissue is rich in B-vitamins, potassium, coenzyme Q10, iron, zinc, and selenium.
Kidney organs are also rich in nutrients like coenzyme Q10, vitamin A, vitamin B12, selenium, and B-vitamins like vitamin B6, B12, and riboflavin. Based on the philosophy that like-treats-like, kidney organs have kidney-specific benefits as well.
Beef pancreas organs are rich in vitamin B12 and nutrients like protein and phosphorus. Best known because it is rich in pancreatic enzymes, including protease, lipase, trypsin, and amylase. Eating beef pancreas is related to improved digestive function and improving overall digestive health.

Spleen organ meat is used traditionally to support a healthy immune system, such as to reduce autoimmune disease symptoms and to help recover from illnesses such as cancer. It is also rich in many nutrients such as iron, niacin, riboflavin, phosphorus, and protein.
Vitamins in organ meats
Organ meats are considered nature's multivitamins. It's important to remember that organ meats will slightly vary on the number of nutrients that they have per serving due to normal variance between animals.
However, organ meats are very rich sources of nutrients and include a lot of the following nutrients and nutrient cofactors:
Minerals in organ meats
Other nutrients and cofactors
My beef organ supplement review
I have had extensive training in nutrition over the years, and realize that current dogmatic teaching of this field leaves people lacking. And part of the lack is due to a move away from eating organ meats.
Without question.
In the past, taking a beef organ meat supplement seemed so foreign, I wouldn't have considered it either.
But then I realized that even as a nutritionist, I can't maintain normal iron levels, vitamin levels, or feel my best without concentrated nutrients from organ meats like the beef liver.
Another moment sealed the deal: I tested my genes for my nutrient susceptibilities. All signs point to the fact that I need extra animal sources of vitamin A, vitamin D3, more choline, and more vitamin B12.
It should be noted that all of these nutrients are most highly concentrated in organ meats, especially the liver.
My personal favorite product right now is Genes that make me vulnerable on a plant-based diet

Here are my gene variants that point to a need for organ meats in my diet.

I'm sure that many of you also share some of these same genes. Gene variants are normal patterns in genetics that can make you vulnerable to nutrient deficiencies.

If you are wondering how I got my gene data, I used Dr. Rhonda Patrick's Found My Fitness Genetic Reports. This works really great if you have used the popular 23 and Me. You can simply download your raw genetic data from them, and then upload it into Found My Fitness.
Rs7041 G:T variant: means I'm at risk for vitamin D deficiency. This means I likely have enough vitamin D binding protein
BCM01 variant: means I don't make active vitamin A from beta carotene or plant sources of vitamin A.
MTHFD1 variant: means I don't make enough choline in the body for brain health. I need external choline from foods like beef.
MTRR variant: means I need more vitamin B12 from animal sources or I run a risk of high homocysteine levels
FUT2 gene variant means that I genetically am at risk for vitamin B12 deficiency
PEMT gene variant means that I may run low in phosphatidylcholine because my body doesn't make it efficiently
Luckily, I also have the FADS1 gene variant that helps me make phosphatidylcholine.
Other organ complex supplement reviews
Organ meats contain diverse antioxidants and nutrient building blocks that are unlike any food or supplement out there. For this reason, it should come as no surprise that supplementing organ meats results in positive reviews for just about every aspect of health.

Reviewers rave that adding organ meats can be life-changing for energy benefits, for increasing resilience to stress, improving immune function, strengthening tissue in the body, alleviating anemia, improving skin health, helping with lung health, stamina, reducing anxiety, improving mood, reducing symptoms of Ehlers Danlos, and so much more.

Here are a couple of examples of reviews for Ancestral Supplements Beef Organs to show you just how pleased people tend to be when they purchase these supplements.
Where to buy organ meat
Grass-fed beef organ supplements are convenient for many people, but you can easily buy fresh organ meats too. Ask your local butcher for these nutritious grass-fed organs and you can often get a great deal on them.

Many people prefer to use fresh organ meats because it is raw and direct from the source. However, for people who aren't accustomed to eating organ meats, it may feel daunting to know how to prepare fresh organs.
How to prepare organ meat
Many people are trying to cook with organ meats again, which is great. If you don't know where to start, Dr. Kiltz has 8 organ meat recipes you can try.

These include a bone marrow recipe, beef heart steak, beef tongue taco salad, kidneys in butter-mustard sauce, and liver and onion meatballs.
Beef organ supplements side effects
Eating organ meats and beef organ supplements is generally safe. However, if you have iron overload or hemochromatosis, you should avoid taking these supplements.

Additionally, some health professionals suggest that people with gout should only eat organ meats moderately or should avoid taking organ meats because organ meats have a high purine content.

Yet other research shows that purine-rich foods are not the culprit at all for increasing the risk of gout [R].

In other words, you should always make sure to check with a healthcare provider that is well-versed in supplements before adding new supplements into your routine. In my experience, this can take some time and research to find the right provider. A good place to start would be a functional medicine doctor or functional medicine nutritionist.

Related post: Are Ancestral Supplements Kidney Capsules Worth the Money?

Disclaimer: The information on this website has not been evaluated by the Food & Drug Administration or any other medical body and is shared for educational purposes only. While The Healthy RD's posts are backed by research, you are unique, so you must seek care from your own dietitian or healthcare provider. This post is not meant to diagnose or treat any conditions. Consult your doctor or healthcare provider before making changes to your supplement regimen or lifestyle.

Heidi Moretti, MS, RD is The Healthy RD.  A registered dietitian for 23 years as well as a book author of the new book Gut Fix and The Whole Body Guide to Gut Health, Heidi has a passion for functional nutrition and natural medicine.  She has researched supplements and natural medicine throughout her career.  One of her biggest loves is helping people gain function and vitality by tackling the root causes of illness.